The Trajectory Mastermind brings together an intimate group of talented and successful entrepreneurs to help each other grow and scale their businesses, become thought leaders in their field, raise their fees, and leverage more passive income. 
It's a powerful way to connect with like-minded peers, learn from each other, receive personalized guidance and feedback from me, and raise your game. All participants are experienced, mid-six-figure professionals looking to grow their successful businesses even further. 
The photo above is from a past retreat in New York City.
If you've been looking for a high-level peer group that meets both virtually and in person, and would like to spend more time with me in a small group setting, the Trajectory Mastermind may be a perfect option. It provides a dose of intense business clarity, new ideas and techniques, and extremely fun socializing with talented colleagues. 
The 2022 Mastermind will run from January - December 2022; spots are now full. Please email me directly at dorie@dorieclark.com if you'd like to be notified when the next Trajectory Mastermind cohort opens up. 
The Trajectory Mastermind includes:
Bimonthly 3-hour virtual mastermind gatherings, including "hot seat" individual coaching, the ability to gain insights from successful peers, and personal advice from me.

Spring 2022: In-person, weekend-long group mastermind retreat in Miami (at a time mutually agreeable to participants).

Fall 2022: In-person, weekend-long group mastermind retreat in NYC (at a time mutually agreeable to participants).

Two hours of private, 1-1 coaching time with me throughout the year to provide targeted advice and ensure you get the most out of the mastermind.
The cost is $20,000 USD for full payment upfront, or two payments of $11,000.

All participants will be personally vetted by me to ensure they're the right fit and will contribute to the overall quality of the group. Here's a photo a past Trajectory Mastermind NYC retreat.

Here's our Mastermind having a blast at a gathering in South Beach. 

And here's one of our fun virtual sessions! 
My Business Income Grew Significantly
"Our group was one of the best investments I've made in myself and my business. Dorie proved to be a thoughtful and insightful leader, who was extremely generous in sharing insight, guidance, advice and mentorship. No issue was off limits. No topic was avoided. All the hard questions we explored and answered. The topics that our group delved into were wide ranging and the learnings nourished my consultancy practice, which has amplified my business and prowess as a recognized expert. During and after my involvement the Trajectory Mastermind, my business income grew significantly and I was able to widen my income streams, all while heightening my own professional visibility. Dorie's Trajectory Mastermind accelerated my vocational journey and I had a blast while doing so."
By Far, the Best Investment I've Ever Made for My Business
"This program is by far the best investment I have ever made for myself and my business. The caliber of ideas and connections I have gained have been priceless. I am not just upgrading my business, company messaging, online presence, but my business network as well! Many programs just provide insights, but this program provides the path and community to turn insights into actual results. Thank you."
I Learned to Think Bigger
"In 2017, I discovered Dorie and immediately knew that I wanted to learn from her. After a 2-day mastermind experience, I asked her if she had plans for an annual group – and she did! I joined immediately. The Trajectory Mastermind introduced me to stellar colleagues and a process we refined to best fit our schedules and needs. My biggest takeaways? Learning to think bigger, learning and sharing experiences with colleagues, and friendships. I launched a book, grew my business and more importantly, made actionable plans for what's next. I'm continuing my participation for another year – and looking forward to more!"
One of the Best Ways to Develop Yourself Strategically
"There are many ways to develop yourself professionally and create a strategic plan for your business. Personally, I have found that joining a mastermind group is one of the best ways to create that opportunity in an organized and systematic fashion."
A Huge Win
"My first year in the Trajectory Mastermind was a huge win: the process revealed my thought leadership strategy while helping me carve out the time to aggressively execute on my plan in the coming year. I also committed to a second year because Dorie's commitment to our group, her abundant expertise, and her sincere enthusiasm for our success are all invaluable, as is the input of my colleagues in the group—both the business owners and the consultants who have become lifelong friends."
It Couldn't Have Been a Better Time to Make the Investment
"The Mastermind has bonded as a team. It couldn't have been a better time to make the investment. I recommend Dorie's mastermind for anyone who is serious about doubling down on their results, peer network and entrepreneurial effectiveness."
Already a Great Return on Investment
"A year ago, I was on the fence about joining the Trajectory Mastermind, but I so respect Dorie and her work that I took the leap - and I am SO happy that I did! Over the past 12 months, I have had the opportunity to work with a small group of truly extraordinary peers who, like me, are looking to take their entrepreneurial businesses to the next level. Through our many virtual sessions, we each had a chance to present our individual goals and challenges, and receive specific guidance, support and feedback from colleagues who truly cared about each other's success. Dorie was the consummate "ring master," hanging back as we offered our thoughts, but then providing specific, actionable recommendations that made sense. Directly as a result of the Trajectory Mastermind and Dorie's support, I published my first article in the Harvard Business Review, gained critical clarity about my personal brand positioning, and kick started the building of my new business advisory firm. I have already received a great return on the investment I made in the program and expect these returns to continue for many years to come."
High Caliber Peer Group
"I directly experienced the benefits of this high-caliber peer group. The mastermind left me energized and hopeful, along with a list of action items to keep moving forward and build on past successes."
Extremely Impactful
"Dorie put together a perfect and well thought-out schedule, whereby everyone had a chance to share their own goals and challenges, with an opportunity to discuss and exchange best practices. Dorie's moderation and leadership was extremely impactful, with plenty of time for less-scheduled 'free-flowing' exchanges, which also provided inspiring and actionable takeaways! While it's not always easy or intuitive to keep a group engaged over an extended period of time, Dorie not only accomplished that goal, she helped spark conversations and relationships that continued to grow and flourish between sessions."
I Saw My Name on the Front Page of Harvard Business Review Twice
"Seeing my name listed twice on the HBR homepage today as an author was pretty exciting. Thanks for all the guidance and support you've provided over the last 1.5 years – it 100% helped make it possible!"
If the Mastermind Sounds Interesting...
If we haven't yet spoken about this and you think the 2022 Trajectory Mastermind might be of interest, let's discuss the possibility further. Please email me directly at dorie@dorieclark.com and I'd be glad to answer any questions you might have. I'd also love to learn more about your goals and objectives so we can mutually see if it seems like a good fit. 
Who is the Trajectory Mastermind for?

The Trajectory Mastermind is for self-employed professionals (often solopreneurs or those who run small boutique firms) who are already earning in the mid six-figures and would like to take their business and their platform to the next level.

Is the mastermind appropriate for me if I'm just starting my business?

No, the mastermind is specifically for experienced entrepreneurs. A great alternative to check out is the Recognized Expert course and community, which includes members at all levels of their professional journey, and can be found at dorieclark.com/rex.

Who else will be in the group?

Many participants find the group so valuable, they "re-up" for multiple years (we currently have some participants on their fourth year in the program!), but the precise composition of the group changes every year. Every participant is personally vetted by me to ensure they are a thoughtful, generous professional who will both learn from the group and give back to it in a collaborative spirit.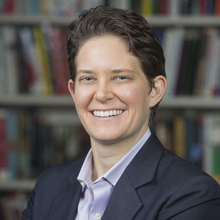 Author: The Long Game, Reinventing You, Entrepreneurial You, and Stand Out
Dorie Clark
Dorie Clark teaches executive education for Duke University's Fuqua School of Business and is the author of The Long Game, Entrepreneurial You, Reinventing You, and Stand Out, which was named the #1 Leadership Book of the Year by Inc. magazine. A former presidential campaign spokeswoman, the New York Times described her as an "expert at self-reinvention and helping others make changes in their lives," and she has been named one of the Top 50 Business Thinkers in the World by Thinkers50. Named the #1 Communication Coach in the World by the Marshall Goldsmith Leading Global Coaches Awards, Clark is a frequent contributor to the Harvard Business Review and hosts a weekly interview show for Newsweek. Recognized as a "branding expert" by the Associated Press, Inc., and Fortune, Clark is a marketing strategy consultant and speaker for clients including Google, Microsoft, Yale University, Fidelity, the U.S. State Department, and the World Bank. She's also the producer of a multiple Grammy-winning jazz album. You can download her free 88-question Entrepreneurial You self-assessment and learn more at dorieclark.com.
Email